Zeak

瑾


[Character by Daxzboy]

Age

15

Height/Weight

167cm,68kg

Race

Human

Class

Blacksmith

Faction

Overworld Alliance(S2 Ep1-7), None(Current)

Weapon

sledge hammer, hammer, sword, pic, dagger- a wizard storage enchanted it so it just goes into his bracelet

Relatives

Unknown

Rank

Private

Title

Unknown

Status

Alive
Personality
Edit
stubborn, hot headed, aggresive, likes fighting as a challange
Abilities
Edit
Weapon repair/crafting - Basic Blacksmith skills
Perfect Sword : Zeak is able to upgrade weapons with this skill. The impact will cause a tremor around the area and there is a 50% rate of failure. Upon failure, the items will turn into food. Reason for this is because Zeak have the tendency of thinking about food instead of metal while doing his work.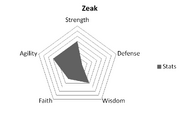 Perfect Blade: Zeak was given a dagger by some random old dude, and was told to recreate this dagger exactly, so he did.
This ability allows him to fix, create, or duplicate something but with a 50% fail rate
zeak smash: basically he takes his hammer, and he makes a direct hit
pros: never misses
cons: it gives him dizziness, and makes him take damage
Zeak have a variety of tools and weapons in his possession. However,  it is unknown whether he is able to use them efficiently.
Major Battles
Edit
Character have yet participated in any major battles.
Despite being scolded by Kunichi afterwards, he did land a hit on Viral. He probably would have fought well against Viral if Kunichi didn't smash him with her hammer (twice) during the fight.