Kunichi

坤琴


'

Age

21

Height/Weight

162cm,64kg

Race

Human

Class

Blacksmith

Faction

Overworld Alliance

Weapon

Gigant Hammer

Relatives

Unknown

Rank

Corporal

Title

Unknown

Status

Alive
Kunichi is a sharp-tongued blacksmith who works for the Overworld Alliance.
First making appearance in Demonic Blade II Episode 1, she is shown telling Zalfier that it is impossible to upgrade the Excalibur Cannon. When Zalfier asks her if she wants to kill him by not upgrading the cannon, she merely shrugs and retorts that she doesn't care if Zalfier is killed or not, seeing how she doesn't know him.
The second time she appears is in DB II Episode 3, where she is trying to 'convince' her collegue, Zeak , to help her repair the swords that were damaged after the battle of Rutari Heights (DB II Episode 2). However, when Zeak makes a 'mistake' while repairing the swords, she flys into rage and tries to kill him. Kunichi also seems to clash with Major Trine Arisa , whom asks Kunichi if she's trying to 'bring the entire place down' by chasing Zeak around the chamber with her hammer.
When Viral infintrated the headquarters, she attempted to fight him to stop him from progressing further, but due to her slow attacks, she was unable to hit him. She later started another argument with Trine , but went to scold Zeak for his incompetence when he tried to calm them down. She later fired him when he turned her favourite hammer into a toy hammer
Personality
Edit
Kunichi is a blacksmith who is serious in her duties and fulfils them according to what is needed. However, she is also a rude and vulgar person in terms of speech
Abilities
Edit
Weapon repair/crafting - Basic Blacksmith skills
Proton Smasher - A heavy smash to the floor, user is vulnerable for a few seconds after the attack
Mjolnir - Kunichi summons a large golden hammer which can destroy thing with ease. Due to this it cannot be used for smithing, and she does not use it often either since she does not fight much.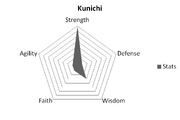 Gigant Hammer - A giant hammer Kunichi use for her blacksmith needs, apparently strong enough for use as a weapon by itself, it was turned into a toy hammer by Zeak.
Major Battles
Edit
Character have yet participated in any major battles.
To date, Kunichi uses the heaviest weapon in DB 

(Even though it was meant for smithing instead of combat)