Iblis Agent

埃特 浩潔


'

Age

54

Height/Weight

181cm, 62kg

Race

Demon(Winged)

Attribute

Unknown

Faction

Unknown

Weapon

Verraad

Relatives

Title

Traitor of the Underworld

Status

Alive
Background
Edit
Iblis fought against the Demon Lord and nearly destroyed all of the demon race. He is the father of Santor and Slash, and is the reason why they were titled "Son of the traitor"
It is unknown to why he is looking for the Princess of the Underworld. He seems to be the only person to have completed the Destiny Charm, and has immense strength.
Personality
Edit
A mysterious person, Iblis seems to keep his actions to himself. He is apparently looking for the Princess of the Underworld. He is shown to be cruel enough to not even give sympathy to people who seem to be suffering.
Portal Battle Arc
Edit
Iblis first appeared in a Library where he have a brief chat with Zalfier . During which Ilbis gives Zalfier his diary, telling him that he was among the few people who completed the Destiny Charm. He was later seen working with Abyss from an unknown place.
Later he attacked the Demon Army's Base camp alone. He attacked Lillin who was alone in the base camp, believing that she was the Princess until he saw her.  He then proceded to beating Lillin for continuing to fight.  Myst , who abandoned her attack on kanal town to protect Lillin , later appeared to fight off Iblis, but was easily defeated. He and left the Base camp after Drakion arrived, after warning him that the Demon race's end is drawing near.
He later met Pulse and offered to help him achieve his goals, but Zalfier and Provice entered the area soon after. He recognised Provice as one of Saviour 's past comrades, and proceed to tell him about his plans.
Abilities
Edit
Flight - As with most Winged Demons, Iblis is capable of flight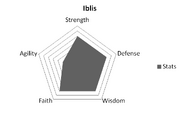 Verraad - A katana used by Iblis, it is very light and sharp. Iblis sometimes uses its sheath to attack from a distance.
Major Battles
Edit
S2 Ep6 : Iblis vs Myst & Lillin (Win)
Verraad means Betrayal in Dutch, which suits Iblis's title of a traitor.
Iblis's name means Devil in Malay