Ezora

孟毅


Ezora

Age

20

Height/Weight

160cm,50kg

Race

Monsterkin

Faction

Overworld Alliance

Weapon

Unnamed Gun

Relatives

Unknown

Rank

Corporal

Title

The Hellhound

Status

Alive
Personality
Edit
A monsterkin working for the Alliance, unlike other Monsterkins, Ezora is capable of equipping weapons, at the cost of not having a human brain. He will kill and eat any nearby living object when hungry. He seems to be incapable of speech, be it human or monster language.
Portal Battle Arc
Edit
Ezora is shown as the Overworld Alliance's scout, helping to pinpoint the Demon Army's progress and led to the Alliance's attack on the Demon Army. He was involved in the battle of Rutari Heights, but his hunger caused him to eat a nearby Demon Army soldier and after which, fell asleep after he ate his fill. He was later seen with Mysoria in Pagoe town, which was where it was revealed that his birth was not natural, but is done with Shivaerus 's help. He was ordered to attack Shivaerus to stall time for Mysoria 's retreat. During the fight, he gets hungry, viciously attacking Shivaerus. Due to Hiro's anger, Shivaerus sends Ezora back to the Alliance HQ. Ezora is seen by the audience outside Zaimur's quarters with blood everywhere (probably soldiers he ate).
Abilities
Edit
Unknown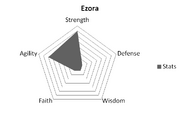 Unnamed Gun - A gun Ezora is seen to be equipped with, currently unknown if it has any special attributes or meaning.
Major Battles
Edit
S2 Ep2: Battle at Rutari Heights: (Fall-out, Lose)
Ezora is currently the only monsterkin in the series who has not have any animal-like features shown, unless you count that he eats people.
As mentioned in Season 2 episode 4, Ezora was created with Shiv's help. This means that his birth is not natural.
Ezora's number is 00240
Ezora is currently the only character without a single line of dialogue, due to the fact he is incapable of speech. Interestingly, he is the Alliance's scout, it is unknown how he gets information to others with his inability to speak and write.